Learn how to format the Motorola Moto G30 off by the buttons or by accessing its settings. If your Motorola Moto G30 is slow or not working normally, depending on the cause, you can resolve the situation by doing a hard reset or restoring it to factory default.
Before starting the procedure, make sure the phone battery has enough charge, 30% is recommended. Formatting will not remove the Google account linked to the phone, so please note the email and password used. You can also remove the current account and after hard reset using a different account.
Important! All phone settings and data will be erased. For this reason, we recommend that you back up your files in advance.
Hard reset Motorola Moto G30
1. With the Motorola Moto G30 turned off, press and hold the Volume Down and Power buttons together. Release the buttons only when entering the fastboot screen.
2. On this screen, keep pressing the Volume button until selecting the Recovery Mode option, then press the Power button to confirm.
3. On the screen with the robot and the message No command, press and hold the power button, click the Volume Up button, and wait to enter the Android Recovery menu.
4. In this menu, select with Volume knob the option Wipe data/factory reset, then press the Power button to confirm.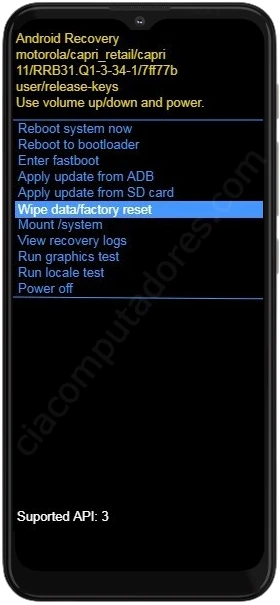 5. Now, select the Factory data to reset option and again confirm by pressing the On / Off button. Wait for all data to be cleared.
6. Finally, select the Reboot system now option and confirm with the On / Off button.
The Motorola Moto G40 will restart for Android to be reset. When everything is done, just set it up again.
How to reset the Motorola Moto G30
1. Tap Settings (gear icon). To do this, swipe down the screen to display the options menu.
2. From the list, tap the System option. On the next screen, click Advanced.
3. Now select the Reset Options and click on the Erase All Data (Factory Reset) option on the next page.
4. On this screen, tap Clear All Data and repeat the same step on the next screen.
The Motorola Moto G30 will automatically restart so that all settings and data saved in will be deleted. When everything is ready, just follow the onscreen instructions to complete setting up your Motorola Moto G30.