Learn how to format the Motorola Moto G20 by buttons. Tutorial to remove the password and delete everything from Moto G20. If you forgot your password drawing or the PIN digits and your cell phone is currently locked, just apply a hard reset in a few minutes.
Steps:
1. First, power off your Motorola Moto G20 normally. Then press and hold the Volume Down button + the Power button at the same time.
2. Press and hold until you see the Motorola Fastboot screen. Now keep pressing the Volume Down button until you select the " Recovery Mode " option and press the Power button to confirm.
3. When entering the "No command " screen, hold down the Power button and quickly press the Volume Up button.
4. When entering the Android recovery menu, select " Wipe data/factory reset " using the Volume Down button and then confirm by pressing Power.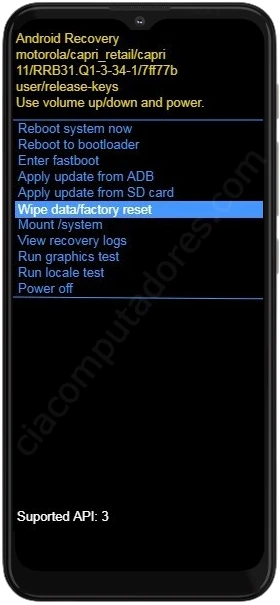 5. In the next menu, select the option " Factory data reset " and again confirm by pressing the Power button. Wait a while until everything is cleared from the phone's internal memory.
6. The option " Reboot system now " will already be selected when automatically returning to the home menu screen, just press the "Power" button to confirm.
Once this is done, your Moto G20 will restart to complete the formatting procedure. Wait until everything is ready and then set up the phone following the onscreen instructions.
How to reset the powered Motorola Moto G20
Doing a factory reset (restore) with the Motorola Moto G20 powered on is very easy. Heads up! This process will delete all personal data, files (photos, music, etc.), applications, and settings made by the user and will return the phone's original configuration.
1. Access your phone settings by tapping the gear icon. Scroll down the screen and select the " System " option .
2. Then tap " Advanced " and on the next screen tap " Reset Options ".
3. Now, click on " Erase all data (restore to original configuration) " and in the next step click on the " Erase all data " button. Enter the password if prompted.
In less than 2 minutes the phone will be reset and ready to be configured again. On the Welcome screen, follow the instructions to complete the setup process.